April 1, 2015
Making their mark: Accomplished alumni recognized as Alumni Fellows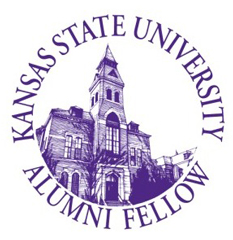 Twelve accomplished Kansas State University alumni have been selected as the 2015 Alumni Fellows and will address students and faculty in classes and receptions April 15-17 during Alumni Fellows week. Alumni Fellows return to discuss current business and industry trends and to meet with students and faculty. The program is sponsored by the K-State Alumni Association, the Office of the President and the Deans Council.
"The fellows were chosen based on their high levels of professional accomplishment and distinguished service in their respective careers," said Andrea Bryant Gladin, K-State Alumni Association director of alumni programs and organizer of the Alumni Fellows program.
More information and bios for the fellows are online.
The 2015 Alumni Fellows are:
Jim Heinze, director of sales, North America commercial products division, The Toro Co., Bloomington, Minnesota, for the College of Agriculture. Heinze earned a bachelor's degree in horticulture from K-State in 1977.
John Norris, president, Norris Design Inc., Denver, Colorado, for the College of Architecture, Planning & Design. Norris earned a bachelor's degree in landscape architecture from K-State in 1981.
Robert J. Kinders, senior principal scientist and head, pharmacodynamics, Laboratory of Human Toxicology and Pharmacology, Frederick National Laboratory for Cancer Research, Frederick, Maryland, for the College of Arts & Sciences. Kinders earned a doctorate in biology from K-State in 1980.
John "J.P." Bilbrey, president and CEO, The Hershey Co., Hershey, Pennsylvania, for the College of Arts & Sciences. Bilbrey graduated from K-State in 1978 with a bachelor's degree in psychology.
Dave Dreiling, founder and owner, GTM Sportswear, Manhattan, Kansas, for the College of Business Administration. Dreiling graduated from K-State in 1989 with a bachelor's degree in marketing.
Raymond Doswell, vice president of curatorial services, Negro Leagues Baseball Museum, Kansas City, Missouri, for the College of Education. Doswell earned a doctorate in educational leadership from K-State in 2008.
Mitch Snyder, executive vice president, Military Business, Bell Helicopter, Fort Worth, Texas, for the College of Engineering. Snyder graduated from K-State in 1983 with a bachelor's degree in electrical engineering.
Carole A. Schwartz, M.S., OTR/L, research public health analyst, Research Triangle Institute International, or RTI, Chicago, Illinois, for K-State Global Campus. Schwartz earned a master's degree in gerontology from K-State in 2009.
Linda Simon, Ph.D., senior vice president, human resources, DIRECTV, El Segundo, California, for the Graduate School. Simon earned a doctorate in psychology from K-State in 1994.
Lee Wilbur, MD, FAAEM, professor and vice chairman, Department of Emergency Medicine; director, interprofessional education, University of Arkansas for Medical Sciences, Little Rock, Arkansas, for the College of Human Ecology. Wilbur graduated from K-State in 1995 with a bachelor's degree in nutritional sciences.
Beverly C. Gatton, IT project manager, Fidelity Information Services, Lenexa, Kansas, for the College of Technology and Aviation. Gatton earned an associate's degree in computer technology from Kansas Technical Institute, now K-State Salina, in 1986.
Tara Donovan, DVM, vice president of health management, The Hanor Co., Spring Green, Wisconsin, for the College of Veterinary Medicine. Donovan earned a Doctor of Veterinary Medicine from K-State in 1998.