February 10, 2015
Kansas Agricultural Experiment Station unveils new platform for publishing research reports
Submitted by Sarah Caldwell Hancock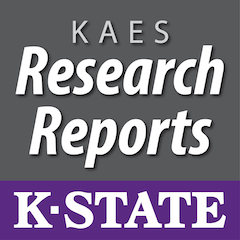 K-State Research and Extension Agricultural Experiment Station researchers on campus and at centers around the state conduct studies in nearly all areas of agricultural production. Preliminary reports of research results are now available through KAES Research Reports, an online publication hosted by New Prairie Press at the K-State Libraries.
Current issues are dedicated to field and fertilizer research around the state and to beef cattle research. Reports will be posted as they become available for issues throughout the year dedicated to projects from the Southeast Agricultural Research Center, beef cattle, forage crops, soil and water management and cropping systems; Southwest Research-Extension Center, cropping and tillage systems, soil fertility, weed science and irrigation; Agricultural Research Center–Hays, beef cattle; and K-State turfgrass, swine, and dairy teams.
Follow @KAESRR on Twitter for updates on reports and visit the Kansas Agricultural Experiment Station New Prairie Press website to view and download recent reports and issues dedicated to individual topics.
Please contact Agricultural Experiment Station Editor Sarah Caldwell Hancock at sarhan@k-state.edu with questions. New Prairie Press was founded by Kansas State University Libraries in 2007, joining a growing number of libraries who are entering the world of open access publishing.
Read more information about New Prairie Press.