February 10, 2015
College of Architecture, Planning & Design journal online with New Prairie Press
Submitted by Sarah McGreer Hoyt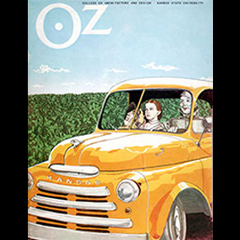 Oz, the journal of the College of Architecture, Planning & Design, and K-State Libraries' New Prairie Press, or NPP, have joined forces to enhance the sustainability and readership of the college's student-edited publication.
Ray Streeter, an associate professor of architecture who serves as the publication's faculty advisor, is digitizing the back issues. New Prairie Press will host the volumes at newprairiepress.org/oz/.
Volumes 1-7 are currently available. Another 27 volumes will be added as the digitization process is completed. The two most current issues of Oz will be digitally embargoed; however the print format will be available for purchase through a link on the New Prairie Press website.
"We are extremely pleased to have the journal's audience extended and its content made permanent through open access publishing." Streeter said.
Oz publishes diverse responses to important issues related to the college's four professional programs: architecture, landscape architecture, planning and interior architecture/product design.
Each year since 1979, student editors have defined a significant topic for debate and commissioned relevant essays from leading practitioners and scholars. The ensuing dialog enriches student education and serves as a printed catalyst for expanded conversations among the college's many constituents and readers. Current student editors are Lauren Harness, Garden City, and Jay Chenault, Rocheport, Missouri. Both are fifth year students in architecture.
Oz is the 10th online open access journal for New Prairie Press, a full-spectrum publishing platform for journals, events, and monographs.
New Prairie Press was founded by Kansas State University Libraries in 2007, joining a growing number of libraries who are entering the world of open access publishing. Visit the New Prairie Press website to learn more.