February 10, 2015
Education faculty member crafts savings for students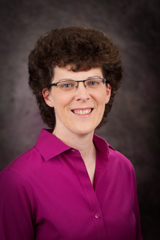 It's not often graduate students cheer when talking about textbooks. But that's exactly what happened when a College of Education faculty member told her class she replaced two textbooks with electronic modules.
Christy Craft, associate professor of special education, counseling and student affairs, announced on the first day of the semester in the course Principles of College Student Personnel Services that she had revised the course and eliminated both textbooks.
Craft was awarded $3,000 through the college's Open/Alternative Textbook Initiative to develop the digital modules, which will save about 35 students $3,150 per year. Thanks to several College of Education faculty members, students have saved more than $228,000 due to the university's and college's alternative textbook initiatives.
"The textbooks were too theory based and did not have enough content in practical application," Craft said. "I felt very constrained by the textbooks, and this gives me much more freedom."
Craft noted the course was designed for administrators, and the best examples are rooted in real-life issues.
"This course is designed to teach administrators about budgets, legal issues, ethics, supervision and other administrative issues," Craft said. "Which would you rather do if you are discussing ethics? Would you rather read a chapter about ethics or listen to a podcast or watch a TED Talk about a current issue related to ethics?"
Craft has taught courses in the student affairs in higher education program at Kansas State University since 2005. She earned her doctorate in higher education from the University of Arizona and is often sought out to share her research about religion and spirituality in higher education.