February 25, 2015
Fit to Be Me Week: Zumba Your Way to Better Body Image tonight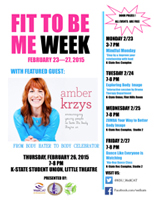 Come join the fun and celebrate Fit to Be Me Week, Feb. 23-27, a week to focus on total fitness from the inside out. There will be prizes and giveaways.
Zumba Your Way to Better Body Image will be from 7-8 p.m. Wednesday, Feb. 25, at the Chester E. Peters Recreation Complex.
Celebrate 'No-Weigh Wednesday' and step away from the scale. Take a breather and remember that the number on the scale does not define you as a person nor does it tell the whole story of your overall fitness. Come and shake it off in this Zumba class! Move your body with internationally inspired dance steps. Have a blast and get a great cardio workout! All levels are welcome.