October 15, 2014
Join the Association of Computing Machinery Programming Contest Oct. 18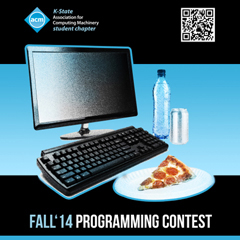 Join the K-State Association of Computing Machinery student chapter for the 2014 Fall Programming Contest from 9:30 a.m. to 5 p.m. Saturday, Oct. 18, in the Nichols Hall Atrium and computer and information science computer labs.

Teams of up to three friends may solve programming problems using C / C++ / Java, enjoy free food and have a chance to win great prizes. Teams may register on the day of the event, but space is limited. To guarantee your team a spot, teams may register in advance.
Each team will be assigned one computer to work on. If participants don't have a team and would like one, they may indicate this on the form. This is a great way for students to learn about and practice programming in a fun environment.
Programming contest schedule:
• 9 a.m., Sponsors arrive and set-up
• 9:30-10:30 a.m., Team registration
• 11 a.m., Contest begins
• 4 p.m., Contest ends.
• 4:15 p.m., Sponsor announcements and prizes — winners should stay for photos.
Prizes include:

First place: Vizio 48-Inch 1080p Smart LED HDTV for each team member

Second place: Bose QC15 Noise Canceling Headphones for each team member

Third place: Razer DeathAdder & BlackWidow Gaming Mouse & Keyboard set for each team member


Door prizes: multiple Chromecasts and Garmin VivoFit Wrist Bands
If you need to make a change to your registration details, you can email nullrefexc+ACM@gmail.com to make adjustments.
Teams may consist of up to three students. Teams may only have one graduate student.
Teams may bring as many printed materials, including textbooks, they would like to use as reference material during the contest. We recommend you also bring a notebook/scratch paper and writing utensils. Electronic devices and use of online resources is generally not permitted during the contest.
Programming languages you may use include: C, C++, or Java.
Winning teams may be invited to compete at the association's North Central North America Regional Competition. All travel expenses will be paid, courtesy the K-State association and computing and information sciences department.
This event is hosted annually by the K-State Association of Computing Machinery student chapter with the generous support of sponsors like Garmin, Koch, TradeBot and more.