October 15, 2014
Huck Boyd Lecture in Community Media to be presented Oct. 16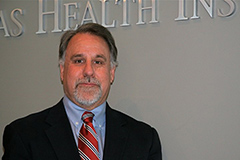 Jim McLean, the executive editor of the Kansas Health Institute News Service, will be the speaker for the 15th annual Huck Boyd Lecture in Community Media at 9:30 a.m. Thursday, Oct. 16, in Forum Hall at the K-State Student Union.
McLean's lecture will be followed by a panel discussion, "Beyond 'The Ghost Map': Perspectives on Health Communication," from 10:30-11:45 a.m. Alan Bavely of the Kansas City Star, Larry Dreiling of the High Plains Journal, Sara Belfry of the Kansas Department of Health and Environment and John Webster of the Biosecurity Research Institute will be the panelists.
The two events are sponsored by the Huck Boyd National Center for Community Media in the A.Q. Miller School of Journalism and Mass Communications.