October 1, 2014
Visiting speakers from University of Nebraska, Lincoln present on digital humanities and literary study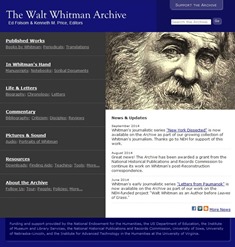 Two scholars from the Center for Digital Research in the Humanities at the University of Nebraska, Lincoln will talk about their work as editors and scholars in digital humanities from 4-5:15 p.m. Friday, Oct. 3, in Hale Library's Hemisphere Room. The presentation is free and open to the public.
Kenneth Price, Hillegass university professor of nineteenth century American literature, will present "'Many Long Dumb Voices...Clarified and Transfigured': The Walt Whitman Archive and the Scholarly Edition in the Digital Age." Price serves as co-director of Center for Digital Research in the Humanities. He also serves as co-editor of The Walt Whitman Archive, one of the first digital humanities projects for American literature.
Amanda Gailey, assistant professor of English, will present "Editing a Troubled Past: The Case of The Tar Baby and the Tomahawk." Gailey is the editor of a new digital research project "The Tar Baby and the Tomahawk: Race and Ethnic Images in American Children's Literature, 1880-1939."
The lectures are co-sponsored by the English department and K-State Libraries, who have partnered during the past year on the development of three digital humanities projects.
"In reviewing our respective 2025 plans, we discovered that both English and K-State Libraries had identified digital humanities as a potential area of growth," said Karin Westman, department head of English. "This event will be the first of several collaborations, as we look for models of success at other research universities, like the University of Nebraska, Lincoln, and build our own interdisciplinary center here at K-State."
Mark Crosby, assistant professor of English and the department's coordinator for digital humanities, notes the work accomplished so far through interdisciplinary collaboration.
"The English department has forged cross-campus partnerships with K-State Libraries, the Beach Museum and with external institutions — including the National World War I Museum in Kansas City — to develop series of unique and innovative Digital Humanities resources," Crosby said. "Deriving from K-State's first introductory course to the digital humanities, these electronic resources were created by faculty and graduate and undergraduate students in the English department. They include an archive of American WWI poetry, launched just before the centennial anniversary of the Great War, and archives of Kansas natives, the author and director of 'The Learning Tree', Gordon Parks, and the artist, John Steuart Curry, whose murals adorn the state's capital building."
For more information about digital humanities at K-State, visit the department's Digital Humanities website.