October 1, 2014
Student Access Center student spotlight: Kalie Timmins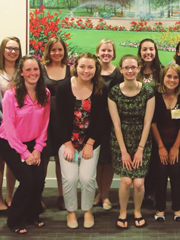 Meet "Kalie" Timmins, junior in biology, Lincoln, Nebraska, our first student showcase for the inaugural Student Access Center: Wall of Fame for the month of October. See how she is going beyond her disability and making a difference.
My name is Kalie Timmins and this summer I was chosen to be a part of the genetic counseling internship at Northwestern University's Feinberg School of Medicine in downtown Chicago. What made me want to apply for this internship was to learn more about this career.
Genetic counselors interpret medical histories, educate and help families and individuals adapt to medical, psychological and familial implications of inherited diseases. My application to this internship focused on my recent diagnosis of Type 1 diabetes and my curiosity of the genetic factors involved. Throughout the weeklong internship I was able to learn more about my possible genetic predisposition to this chronic autoimmune disease and how the environment may have triggered it.
My fascination with genetic counseling expanded during the internship as we attended lectures, met genetic counselors firsthandedly, discussed different disabilities and illnesses, and listened to patient experiences. One of my favorite and most memorable parts was taking a field trip to Misericordia, a living community in Chicago for people with mild to profound developmental disabilities. It is the only living community in the country where residents are continuously cared for and encouraged to maximize their potential and independence, and it also provides peace of mind to residents' families.
Through my experiences and love for my own family I realized I would like to be an advocate and source of important genetic information for families that need it. I am also intrigued because this profession encompasses several of the subjects I am interested in. So altogether this internship at Northwestern — also home of the purple Wildcats, but still, Go State! — was an amazing opportunity with lots of information and experiences I couldn't have received anywhere else. I am looking forward to going back to Chicago this winter to shadow a genetic counselor during her day at work.
The Student Access Center's Student Showcase is an initiative to showcase the students of the office that exhibit great talents and/or achievements. Each month, a student will be showcased and placed on the Wall of Fame. Stop by the office, 202 Holton Hall, to see more. Read more information regarding the Student Showcase and the Student Access Center, follow us on Twitter at @KSU_SAC or Facebook at Student Access Center at K-State.