February 25, 2014
K-State baseball opens this weekend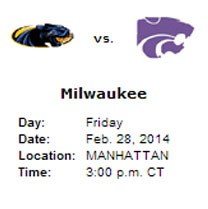 Your reigning Big 12 Champion K-State baseball team opens its 2014 home season this weekend against Milwaukee at Tointon Family Stadium. Admission is free with a student ID.
Series times and dates:
3 p.m Friday, Feb. 28
1 p.m. Saturday, March 1
1 p.m. Sunday, March 2
Want a K-State baseball 2013 Big 12 Championship coin?
Parking is free in the Bill Snyder Family Stadium parking lot.