February 25, 2014
NVivo site license renewed, new license key for users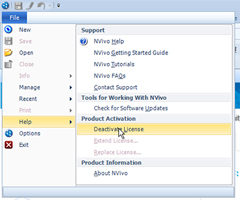 K-State recently renewed its site license for NVivo 10 to allow all current faculty, staff and graduate students to have access to this qualitative and mixed methods research software. As part of this process, a new license key was issued for all site-license-based users of the software.
To ensure uninterrupted access to each installation of the software, please be sure to update the license.
Existing NVivo 10 users: Those who've already installed the software can access the new license key by logging into the download site with their eID and password. Then go to File, Help. Product Activation and input the new license key. In some versions, there is a choice to "Extend License." This is the proper choice.
New NVivo 10 users: Those who have not yet installed the software go to the download site to download the Windows version. After it is installed, open the software and insert the key through the same path described above.
The most up-to-date version of the software is NVivo 10, with Service Pack 4. Users may update their version from the automated reminder within the software.
Those with questions may contact the IT Help Desk, 785-532-7722, helpdesk@k-state.edu.