February 25, 2014
Student Governing Association brings SafeTrek mobile app to campus for free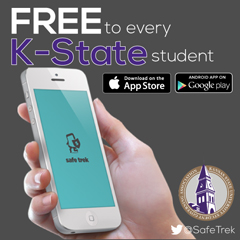 K-State Student Governing Association, or SGA, has partnered with SafeTrek — a personal safety app — to allow all students, faculty and staff to download the app for free through the end of the week.
SafeTrek enables citizens to be proactive in their safety by bridging the gap between doing nothing and calling 911 in an unsafe situation. By holding down the SafeTrek safe button, a user is able to passively connect to police. If nothing unexpected happens, a user simply inputs their unique four-digit pin to cancel an alert from being sent to police. If a situation takes a turn for the worse, a user simply releases the safe button without typing in his or her pin number and is connected to police.
SafeTrek is the perfect app for walking home alone at night, looking for your car in a poorly lit parking garage, or any time you feel uneasy about your situation. The app usually costs $1.99 in the app store, but K-State Student Governing Association has partnered with SafeTrek to make the app free for all K-State students, faculty and staff through the end of this week.

Download it now to make Manhattan a safer place: