February 12, 2014
Letter from A.D. John Currie: Update on ongoing athletics facility improvements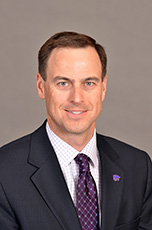 Good morning, Wildcat Nation!

First off, congratulations to Coach Weber and our men's basketball team on their thrilling win over the No. 7 Jayhawks Monday night. Thanks to the K-State Nation, the atmosphere at Bramlage Coliseum was incredible, and it was great to see Monday night's win make just about every national headline as well as the lead on ESPN SportsCenter and FS1's Fox Sports Live throughout the night and into Tuesday morning. I am proud of our coaching staff for the great job they did preparing our team and appreciate our student-athletes staying tough in OT to get the win.
Of course there is no rest for the weary — here is a tweet from ESPN's Holly Rowe as she spotted Coach Weber at MHK Airport early Tuesday getting on that 6:10 a.m. American Airlines flight to DFW to hit the recruiting trail!
"1st win over Kansas last night in OT for #KState coach Bruce Weber. 5 am this morning at airport, recruiting pic.twitter.com/N5d65Ji1aj"
— Holly Rowe (@sportsiren) February 11, 2014
And on that note, today I am pleased to share some updates with you on our ongoing athletic facility improvements. As you know, over the last 24 months we've completed roughly $125 million in athletic facility upgrades benefiting all 16 of our sports. Every member of the K-State Nation should feel the pride of these improvements and the fact that they have been achieved in a fiscally responsible manner.

While we have taken incredible steps toward our vision of a model intercollegiate athletics program and our goal of providing a world-class student-athlete experience, we have at the same time eliminated several million dollars of direct and indirect university financial support and maintained our status as one of only 23 schools in America that achieve a budget surplus annually. Your attendance at ballgames, support of the Ahearn Fund and just wearing the purple proudly every day is making a difference!

You have heard me say before that my two favorite of Coach Snyder's 16 goals are No. 3, unity, and No. 12, no self-limitations. Look what the K-State Nation has accomplished over the past several years by indeed being committed to these principles!

In 2010, we unveiled a six-phase long-range master plan for Bill Snyder Family Stadium that, like any master plan, provides the flexibility to make adjustments along the way as needs and resources evolve. Although we have just completed Phase II, highlighted by the beautiful new West Stadium Center, we have of course been continuing to evaluate our next steps and priorities for some time. Recently the Kansas Board of Regents approved our request for permission to initiate our comprehensive design process for Phase III including feasibility and specific cost and design. As part of this process we have thoroughly analyzed our needs and are pleased to share an update of the BSFS Master Plan.

Coach Snyder and his staff have done an extraordinary job of rebuilding our football program over the past five years. Our fans have stepped up, too, with the best attendance in our history, highlighted by a current streak of 13 consecutive sell-outs at Bill Snyder Family Stadium. However, we all know that in any competitive environment you are either getting better or getting worse. There really is no standing still and treading water. We have to continue to strengthen the foundation of our program, and thus we have identified the North End Zone of Bill Snyder Family Stadium as Phase III — our next major priority.

The current Vanier Complex, which houses both our football and Academic Services operations, has served our program well, with around eight renovations and additions since its original construction in 1968. It is time for a major upgrade to better position not just the football program, but also enhance the experience of all 450 of our student-athletes in our 16 sports whose scholastic and athletic pursuits are supported from the Academic Learning Center, sports medicine, strength and conditioning and equipment infrastructure located in the north end zone. Every Big 12 school and most of our peers at other colleges have made tremendous recent investments in these areas.

But these improvements would not just benefit Wildcat student-athletes. K-State's fan support spans the economic spectrum of Kansas. Our fervent grassroots fan base has always been a huge factor in the growth of the program.

And we are committed to maintaining and improving the family-friendly environment in the north end of the stadium, which has become one of the signature elements of Saturday game days at Bill Snyder Family Stadium. Seeing our fans slap hands with players and coaches as they come down the ramp or head to the locker room after another victory showcases the family connection of our teams with the K-State Nation. The generosity our fans have shown these past 24 months has been humbling, and the lead fundraising response we have received for Phase III has been even more exciting.

For our initial planning concepts we have engaged world-renowned Kansas City sports architectural firm Populous, the same firm that designed our award-winning Basketball Training Facility. No final decisions on design or a time frame for the project have been decided, but we will update you as we are ready for the next step in the process.

We are also glad to update you on our plans for dramatic improvements for audio, video and data connectivity infrastructure at Bill Snyder Family Stadium. We are working hard with consultant WJHW on the long-term technology plan for both BSFS and Bramlage Coliseum about which I am really excited! Obviously we have to replace the small board currently located on top of the Vanier Complex, but because we are also working on the much larger plan to transform that entire section of the stadium we will not have a new north end video board for the 2014 season. Instead, we will have very cool broader concepts that I look forward to sharing with you as soon as we have final cost and implementation details.

It's an exciting time to be a Wildcat, and I sincerely thank each and every one of you for your continued support of our student-athletes. Stay tuned for more details and information regarding the North End Zone project and technology enhancements!

One more set of thanks before I close. Our event and operations staff did a great job Monday night not only moving snow and ice in the parking lots but also ensuring a safe post game exit from the court for our guests from Lawrence, as national college sports analyst Seth Davis noted in this tweet.
"I don't like court storms but KSt security did a great job forming wall so KU players could get off court. Very smart and responsible."
— Seth Davis (@SethDavisHoops) February 11, 2014
And our development staff received national praise for its proactiveness in communicating expectations to our courtside ticket holders in the aftermath of Saturday's incident at the Texas Tech/Oklahoma State game – see this tweet from ESPN's Darren Rovell.
"K-State had these notices on courtside seats tonight pic.twitter.com/TXELRBrGBj (via @Turnksu)"— darren rovell (@darrenrovell) February 11, 2014
We look forward to seeing you tonight at Bramlage Coliseum as the women's basketball team hosts Texas at 7 p.m. Tickets are still available by calling 1-800-221-CATS or visiting k-statesports.com. For those who cannot make it out to Bramlage, FOX Sports Kansas City will be carrying the game live.
Go Cats!

John Currie