October 22, 2013
K-State Shred Day saved trees, improved information security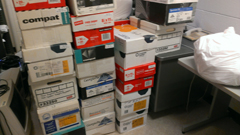 K-State's annual Shred Day collection on Tuesday, Oct. 15, removed 7,820 pounds of paper from campus departments for secure disposal. Document Resources Inc. is the contract vendor for secure recycling. Papers are shredded into tiny particles, then compressed into large bricks before recycling.
"Document Resources estimates that we saved 68 trees today by recycling waste," said Rebecca Gould, Information and Technology Assistance Center director and coordinator of the Shred Day event.
The university conducts Shred Day every October during National Cyber Security Awareness Month to properly dispose of paper containing sensitive information and also to raise awareness of the need to protect information on paper.
Recycling options for secure disposal are available year-round to K-State departments. See Secure disposal options for paper, e-waste throughout the year.