October 22, 2013
'Using Maltego Radium to Map Network Ties and Identities Across the Internet' presentation Nov. 8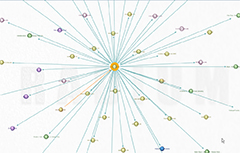 Network science has come to the Web and Internet. Various software tools enable the extraction and visualization of social media platform data, as well as technical Internet network information. One of the foremost tools is Maltego Radium.
"Using Maltego Radium to Map Network Ties and Identities Across the Internet" will be presented from 2-4 p.m. Friday, Nov. 8, in 301 Hale Library for any who are interested. Maltego Radium is a penetration testing tool that may be used to collect public data from the Surface Web about organizations, websites and human identities.
For more information, call Shalin Hai-Jew at 785-532-5262. For more details, read the full article in the IT News blog.