October 22, 2013
K-State Libraries sponsoring Muslim Journeys programming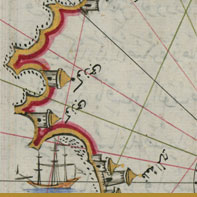 K-State Libraries is sponsoring a series of events this year featuring resources from the Bridging Cultures Bookshelf: Muslim Journeys, a collection of materials from the National Endowment for the Humanities and the American Library Association.
K-State Libraries were one of 840 libraries and state humanities councils across the country selected to receive the bookshelf as part of a program that aims to familiarize public audiences in the U.S. with the people, places, history, faith and cultures of Muslims in the U.S. and around the world.
The inaugural event is a film screening of "Islamic Art: Mirror to the Invisible World" at 6:30 p.m. Oct. 29 at the Beach Museum's UMB Theater. This film takes audiences on an epic journey across nine countries and more than 1,400 years of history, exploring the richness of Islamic art in objects big and small, from great ornamented palaces and the play of light in monumental mosques to the exquisite beauty of ceramics, carved boxes, paintings and metal work. It revels in the use of color and finds commonalities in a shared artistic heritage with the West and East. The film also examines the unique ways in which Islamic art turns calligraphy and the written word into masterpieces and develops water into an expressive, useful art form.
Following the film, David Allen, head of the Morse department of special collections at K-State Libraries, will facilitate a discussion to include further exploration of the topics of art and religion as well as living creative traditions. The screening is co-sponsored by the libraries, the Beach Museum of Art, and the Dow Center for Multicultural and Community Studies at K-State Libraries.
Also upcoming is a discussion facilitated by Beverley Earles featuring Muslim women. The discussion will explore the diverse perspectives of Muslims in the U.S. and around the world, and will be 7-8:30 p.m. Nov. 19 in Town Hall at the Leadership Studies Building.
All events associated with the Muslim Journeys Bookshelf are free and open to the public, but seating may be limited. For more information about specific events, contact Darchelle Martin, events and programs coordinator at K-State Libraries.
The books and films comprising the bookshelf were selected with the advice of librarians and cultural programming experts, as well as distinguished scholars in the fields of anthropology, world history, religious studies, interfaith dialogue, the history of art and architecture, world literature, Middle East studies, Southeast Asian studies, African studies and Islamic studies. The collection will be housed in the Dow Center for Multicultural and Community Studies on the fourth floor of Hale Library.
For more information about these materials or a complete listing of included books and films, please visit the K-State Libraries website or contact Melia Fritch, undergraduate and community services librarian.