October 16, 2013
Today is World Food Day; Noted Borlaug biographer to speak, other events across campus
Submitted by Communications and Marketing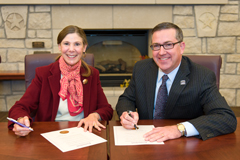 Noted scientist and biographer Noel Vietmeyer is a featured speaker in three public presentations today on the Kansas State University Manhattan campus.
Vietmeyer's appearance at K-State coincides with World Food Day. All presentations are free and open to the public and include:
11:30 a.m. to 1 p.m. — Panel discussion, "Meeting World Food Needs: Challenges and Opportunities" in K-State Student Union's Forum Hall.
4-5 p.m. — Seminar, "Our Daily Bread: The Essential Norman Borlaug" in 1014 Throckmorton Hall.
7-8 p.m. — Alpha Zeta Lecture in the K-State Alumni Center ballroom.
Also, K-State President Kirk Schulz and Provost April Mason have made an official proclamation of World Food Day on behalf of the university.
Vietmeyer has published the biography of Norman Borlaug, a plant scientist whose improvements in wheat varieties and crop management in the late 20th century is said to have saved 1 billion lives.
Borlaug is one of seven people to have won the Nobel Peace Prize, the Presidential Medal of Freedom, and the Congressional Gold Medal. He is widely recognized as "The Father of the Green Revolution" — the term given to a series of science and technology improvements that increased agriculture production worldwide.
Vietmeyer, who worked for the National Academy of Sciences, met Borlaug in the early 1980s. The two men worked and traveled together frequently.
Now retired from the National Academy of Sciences, Vietmeyer is making it his new career to bring recognition to Borlaug.
The day after his visit to K-State, Vietmeyer will travel to Des Moines, Iowa to take part in the dedication of the Dr. Norman E. Borlaug Hall of Laureates, on the 25th anniversary of the first World Food Prize, an award created by Borlaug.