October 16, 2013
'150 Years of the People and Places of KSU' Manhattan Trolley Tour to take place Oct. 23-24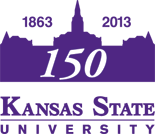 The K-State 150th celebration and UFM Community Learning Center will partner for once-in-a-lifetime trolley tours of Manhattan highlighting "150 Years of the People and Places of KSU."
Seating on the Manhattan Trolley is still available for the 10 a.m. to noon Oct. 23 tour and the 2-4 p.m. Oct. 24 tour. Tours begin and end at Goldstein Circle, just north of McCain Auditorium and south of the Anderson Hall lawn.
Riley County Historical Society and Museum director Cheryl Collins provides a lively anecdotal history of the most historic people and places related to our K-State history in the past 150 years. Snacks and drinks will be provided.
Tickets are $18 per person. Register online or by calling 785-539-8763. There is a maximum of 14 people per tour.
We hope to see you on this commemorative tour of Manhattan.