October 16, 2013
Virtual adult learning environment for online classes and research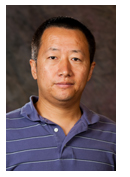 View the Jibe-based virtual world, Virtual Adult Learning Environment, or VALE, set up by Haijun Kang, for use in online classes and research from noon to 1 p.m. Oct. 16 in 16a Bluemont, inside the Catalyst.

The Web-based interface makes a learning environment accessible via browser. Uses for online classes and research will be demonstrated. Additionally, its possibilities for use in multicultural research will be shown and discussed because of the wide range of avatar options available by ethnicity.
View this short video on VALE or to explore, visit the VALE website. You may be prompted to install a Unity3D player to your browser if it's your first time using Unity3D.