September 26, 2013
Sherow publishes 'Manhattan,' a collection of photos, illustrations
Submitted by Danielle Schapaugh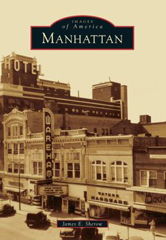 James Sherow's new book, "Manhattan," is now available online and in local bookstores. Sherow is a professor of history in Kansas State University's history department.
"Manhattan" is part of the popular "Images of America" series from Arcadia Publishing. It features a collection of 199 photographs and illustrations chosen from various local archives, including the Riley County Museum, the special collections department at Hale Library, and the city of Manhattan. Gleaned from the thousands available, these carefully selected and arranged photographs provide a visual history of a unique and vibrant city nestled in the Flint Hills of Kansas.
Sherow, a Kansas native and former Manhattan city commissioner and mayor, has been teaching courses and publishing works on the history of Kansas, the American West, and North American Indians for the past 20 years. He received his doctorate from the University of Colorado in 1987, and his dissertation, "Discord in the Valley of Content," won the Westerners International-Phi Alpha Theta award for the best dissertation in Western history. Prior to joining the K-State history department in 1992, Sherow taught at Southwest Texas State University.
Sherow is also the author of "The Grasslands of the United States: An Environmental History," 2007; "A Sense of the American West: An Anthology of Environmental History," 1998; and "Watering the Valley: Development along the High Plains Arkansas River, 1870-1950," 1990.
The University of New Mexico Press is in the final stages of publishing his co-authored book with John Charlton titled "Railroad Empire Across the Heartland: A Rephotography Project." He is completing a book-length environmental history of the Chisholm Trail.