September 26, 2013
President, CEO of The Hershey Co. to receive award, present 'All Things Are Possible' lecture.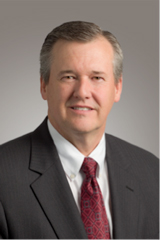 J.P. Bilbrey, president and chief executive officer of The Hershey Co. and 1978 K-State alumnus, will return to his alma mater on Friday, Oct. 4, to receive the Distinguished Alumnus Award from the psychological sciences department in the College of Arts and Sciences and present his "All Things Are Possible" lecture.
The event includes an awards presentation and lecture at 9:30 a.m. immediately followed by a panel discussion until 11:20 a.m. in 101 Bluemont Hall. Attendance is open to the entire K-State community.
"J.P. has truly distinguished himself among our alumni," said Peter Dorhout, dean of the College of Arts and Sciences. "He has personally taken students from across K-State under his mentorship while serving as a CEO of a major corporation. He exemplifies our college 2025 strategic goal of preparing students to make a difference in the world."
Bilbrey joined Hershey in 2003 after serving in leadership positions at Danone Waters of North America and Procter & Gamble. He serves on the board of directors of the Hershey Co. and McCormick & Co. and on the Grocery Manufacturers Association executive board. He also is a U.S. private sector member of the Obama administration's U.S.-Brazil CEO Forum.
Jerry Frieman, psychological sciences professor, encourages everyone to attend the lecture, especially undergraduate students in psychology and open option.
"This is a wonderful opportunity to listen to a major figure in the business world that is one of our own," Frieman said. "This is a person to look up to and admire. To hear him speak and ask him questions is a rare opportunity."
There will be a question and answer session with Bilbrey following the lecture. There will also be graduate and undergraduate panel discussions with members of the psychological sciences department alumni advisory council following the award presentation and speech.