September 20, 2013
Greeks going green: Recycling staff thanks Greek organizations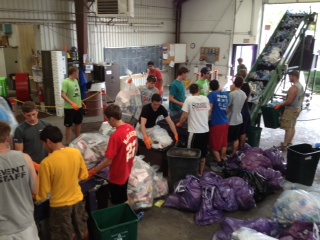 The recycling staff would like to personally thank the sorority sister from Alpha Delta Pi for single-handedly handing out hundreds of purple recycle bags on Sept. 14 when the Wildcats beat the University of Massachusetts, Amherst.
Furthermore, they would like to thank all fraternity brothers of Alpha Tau Omega, Beta Sigma Psi, FIJI, Phi Gamma Delta for sorting in excess of 2,480 pounds of recycling material in a record time of just under two hours.
The recycle staff new weekly motto is "K-State Recycles, join us it's free."