September 20, 2013
Experts to present 'Now You See Us: Creating Videos that Work' Oct. 4
Submitted by Swasati Mukherjee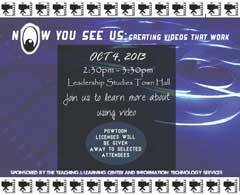 Do you plan to use a video to teach or are you currently using an uploaded video for your class?
Learn more from four K-State video experts who will present "Now You See Us: Creating Videos that Work" from 2:30-3:30 p.m. Friday, Oct. 4, in Town Hall at the Leadership Studies Building.
Come join us, we will be discussing with the experts:
Brent Anders, senior electronic media coordinator, and Zachary Caby, electronic media coordinator, both in the office of mediated education; Jason Maseberg-Tomlinson, director of student and faculty services for the Division of Continuing Education; and Phyllis Epps, manager of technology training and instructional support in the Information Technology Assistance Center.
We will cover the principles of good pedagogy to create or use instructional videos; different format choices; quality and size of videos; and how all those options affect students. Hear the experts' experience from the front line, working with both students and faculty. Learn about the resources available, and ask them questions. Don't miss out on this event and register.