September 20, 2013
New basketball student-athlete: Jack Karapetyan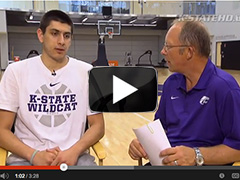 Freshman forward Jack Karapetyan's goal as he looks forward to a basketball career at K-State is simple: He wants to be the best.
The best basketball player he can be, the best teammate he can be and the best student he can be.
For Karapetyan, being the best starts with putting yourself in an environment that allows you to do so, which is exactly what he did.
A Los Angeles native, Karapetyan grew up in the big city. There were always things to do and places to be. The 6-foot-7-inch, 215-pound senior from Cathedral Prep High School knew he had the opportunity to play at a higher level, but he went about his decision carefully, taking his time to find the right college for him.
"I chose to be here at K-State because I liked the coaching staff and I felt like they were really going to push me," Karapetyan said during his first week with the team. "I want to be on a high level, and I think that this was the best place and the best fit for me to come. I want to compete and be in the Big 12, be on this stage and have the chance to go to the NCAA Championship."
Along with playing at a higher level in one of college basketball's top conferences for the 2013-14 season, Karapetyan said there was even more to his decision.
If you want to be the best performer on the court as well as in the classroom you have to have one thing: focus.
"The city is really fast paced, it's crowded, there's a lot more things to do," Karapetyan said about the difference between Manhattan, Kan., and L.A., "but when you want something, sometimes you have to go somewhere to achieve your dreams. I like it here right now because you can focus on things better. I've just got basketball and school, and that's what I'm focused on right now."
A fierce competitor on the court, Karapetyan said he likes to be pushed. He said he works hard and doesn't want a coaching staff that would hold him to anything less than his best.
"The coaches want you to be the best, but that doesn't mean they're not going to push you and that's what I like the most here," Karapetyan said. "I know I'm going to be pushed here, and I want to be pushed and I want to be yelled at because I'm a tough player on the court. I want people to tell me, 'You're doing this wrong,' so I can do it better. I don't want people sweeting-up anything for me."
There are seven new faces on the Wildcat's basketball squad this upcoming season, so Karapetyan said getting to know all the guys and bond with each of them is going to play an important role in their chemistry when they finally hit the court.
Luckily, team bonding hasn't been an issue as Karapetyan said one of his favorite things to do since he's been in Manhattan is hang out with the team.
"I like hanging out in the players lounge and in the locker room with the guys. It's when everyone is laughing and talking, just being a team," Karapetyan said. "That's what I enjoy the most — just being with the team — getting closer, getting more chemistry because that's going to help us on and off the court. I'm pretty close with everyone so far. That's what the point of the team is, to be a whole."
With a good head on his shoulders, and a focus to reach his goals, Karapetyan is ready to show Wildcat fans what he is made of. He's ready to step into the classroom and succeed, and he's ready to step on the court of Bramlage Coliseum for the first time as a Kansas State Wildcat.
"I want be respectful and thankful for everyone here because they're all helping us out," Karapetyan said. "I want to be good with the fans and my teachers, everybody on campus. After K-State, my dream is to be in the NBA, so that's what I'm perusing the whole time I'm here. Winning games, playing the best I can play, being the best teammate I can, best student, and then go to the NBA – that's my goal."
K-State faculty and staff receive discounted season tickets and can also use the payroll deduction option to spread their ticket costs over multiple pay periods. For questions, contact the K-State Athletics ticket office at 1-800-221-CATS or visit kstatesports.com.
Click here to watch the video interview: http://www.youtube.com/watch?v=Cb16xP1-xpE.