August 20, 2013
College of Education launches Grandparents University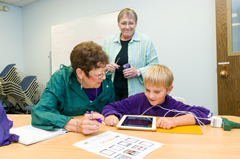 "I don't want to leave."
This simple statement spoken by a tween packing up at Haymaker Hall may be the single best testimonial about the inaugural Grandparents University, or GPU. It was a two-and-a-half-day campus adventure for grandparents and their tweens.
Grandparents University was the brainchild of Debbie Mercer, dean of the College of Education, and was piloted July 28-30 by a small group of alumni and their grandchildren. The Marianna Kistler Beach Museum of Art and three colleges — Veterinary Medicine; Architecture, Planning and Design; and Education — provided tours and activities.
A scavenger hunt reacquainted the grandparents with campus and provided tweens the realization how far college students walk each day. The group also enjoyed bowling and a trip to Call Hall for scoops of K-State's world-famous ice cream. All of this was captured on iPads loaned to the teams from the College of Education.
"This was a wonderful few days with my grandson, and it brought back some terrific memories," said Betty Robison.
Mercer explained how Grandparents University came to life.
"I was intrigued with this concept when I first heard about it at Michigan State," Mercer said. "Since kids in the 8-12 age group are forming perceptions about themselves as a potential college student, this seemed like the perfect time to get them on campus and expose them to college life."
Exposure to college life included a construction project with Legos that each grandparent-grandchild team built in the College of Architecture, Planning and Design. The group toured the Veterinary Health Center then explored animal skeletons and germs. At the Beach Museum, teams constructed art museums out of construction paper. And at the College of Education, teams used their borrowed iPads to make movies of their Grandparents University adventure.
"The original plan was to show each of the 45-second movies at the closing brunch," said Teara Flagg, graduate student and Grandparents University event coordinator. "But everyone was so excited, we watched them as soon as we made them."
The only aspect less than ideal was the weather — but the kids loved it.
"No matter how hard it rained, the kids wanted to walk across campus and stomp in the puddles," Flagg said. "Seeing them happy was the best reward we could have ever asked for."
Mercer, who participated in Grandparents University with granddaughter Kadence Mai, said this provided a wonderful bonding opportunity.
"While this tween group is beginning to assert some independence from their parents, typically, grandparents are still cool," Mercer said.
Plans are already underway for next year's Grandparents University. Stay tuned for more information.