August 20, 2013
Letter from A.D. John Currie: Tim Norris announces retirement in 2014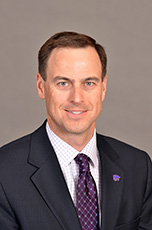 Dear K-State Nation,
Sunday evening at the annual Colbert-Fogler K-State golf fundraising event, Coach Tim Norris announced that he is retiring as our head men's golf coach effective June 30, 2014.

Coach Norris has done a remarkable job of building our program almost from scratch into one which has won many tournaments, competed in the NCAAs, now has a tremendous facility and has produced two current PGA tour members while maintaining a near perfect academic record.

Tim, Shelley, Ashley and Tyler Norris are a tremendous K-State family and of the utmost integrity. We have been blessed to have him as our men's golf coach!

Our immediate focus will be on the student athletes in our program and supporting them to the highest level possible this season as they work to add to the K-State golf trophy case in Coach Norris' final year. We will work diligently to select an outstanding coach in the spring who can build on the tremendous foundation Coach Norris has developed.

Coach Norris has transformed K-State golf into a program that has competed regularly on a national level, while his focus on the development of young people on the course and in the classroom is unmatched and consistent with our goal of providing a world-class experience for our student athletes.

Sunday's event featured K-State celebrities like Coach Snyder, women's golf coach Kristi Knight, Jim Colbert, Paul Coffman, Lynn Dickey, Carson Coffman, Collin Klein, Lon Kruger, Stan Weber and many of our golf alumni and friends. And with classes just a week away it was awesome to see both our men's and women's teams back in town.

Also just 10 days away is the West Stadium Center dedication and football home opener. I'll be back with another letter and more updates soon. In the meantime, please join me in wishing Coach Norris and our team the best of luck this year and in showing our appreciation throughout the upcoming season for his 16 years of leadership for the Wildcat program!
Go 'Cats!
John Currie