November 13, 2023
Karin Goldberg recognized as Professor of the Week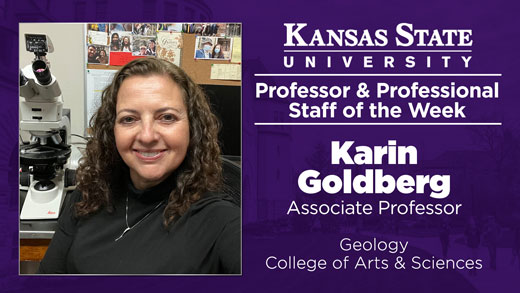 Karin Goldberg, associate professor of geology, was recognized as Professor of the Week at the Nov. 10 men's home basketball game. Faculty Senate, the Office of the President, K-State Athletics and the Division of Communications and Marketing wish to recognize her contributions to K-State.
Goldberg joined the geology department at K-State in fall 2016. She is an internationally recognized sedimentary geochemist and petroleum geologist. Her research is wide-ranging, encompassing the broad fields of energy, deep-time paleoclimatology and medical geology. Her research has been funded by such diverse organizations as the National Science Foundation, American Chemical Society and Sigma Xi, as well as a range of industry partners.
Goldberg teaches courses that run the gamut from introductory undergraduate level to advanced graduate studies. She was recognized in 2023 for her excellence in undergraduate teaching and mentoring as the recipient of the Geology Department Undergraduate Teaching Award.
Goldberg is an enthusiastic supporter of women in science and passionate about mentoring first-generation and underrepresented students. She is an avid participant in the K-State Office for the Advancement of Women in Science and Engineering, or KAWSE, and a member of Alianza.
In 2022, Goldberg was inducted as an honorary member of K-State's first-generation honorary society, Tri-Alpha, for her work "advancing first-generation student success and serving as an exceptional role model." In 2023, she received the Davids-Dunham Award in recognition of her excellence as a teacher and scholar and her support of the university's and college's mission to promote diversity through teaching and scholarship.