July 24, 2013
KSU Foundation announces Damien Williams as the new development recruiter and talent manager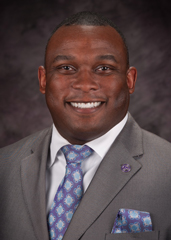 The KSU Foundation recently announced the hiring of Damien M. Williams as the new development recruiter and talent manager. Williams will also oversee fundraising for university honors programs, diversity programs and the School of Leadership Studies.
Williams has more than nine years of experience in resource development for higher education, working with teams from the University of Oklahoma, Oklahoma State University, the University of Texas, San Antonio and most recently the University of California Davis Health System. Williams also spent several years working with executive university leadership, served as a college instructor for biology and chemistry, and as a field publisher and sales representative for the McGraw-Hill Companies.
Williams, who is originally from Edmond, Okla., holds a bachelor's degree in biology and a master's degree in college teaching and student support services from Northeastern State University in Tahlequah, Okla. He is currently a doctoral candidate in higher education and organizational leadership at the University of Oklahoma in Norman.
Philanthropic contributions to K-State are coordinated by the Kansas State University Foundation. The foundation staff works with university partners to build lifelong relationships with alumni, friends, faculty, staff and students through involvement and investment in the university.