July 24, 2013
Train with K-State athletics staff, athletes in the Wildcat Fitness program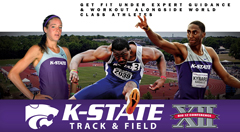 Dear K-State faculty and staff members,
We would like to offer you a unique fitness opportunity as we prepare for another great year at K-State. Whether you need to get back in shape, want to stay in shape or just want to learn more about training, Wildcat Fitness can help you reach your goals.
Wildcat Fitness will meet for four weeks, three days per week, and will start Sunday, July 28. We are offering the camp for $85 to the first 50 to register and $100 after that. Registration will begin at 6:15 p.m. and our first session will begin at 7 p.m. This camp is open to any and all ages, ability levels and goals.
We hope you decide to take advantage of this opportunity to do some training at R.V. Christian Track, get to know our staff and athletes and get a glimpse at how we go about organizing training. If you are interested please email us at wildcatfitness@kstatesports.com, or call Coach Kyle at 785-587-7872.