July 8, 2013
Spaghetti dinner to support K-State cancer research July 14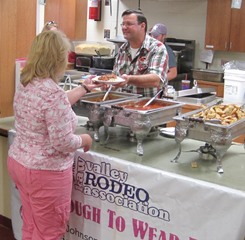 A Tough Enough to Wear Pink Spaghetti Dinner benefiting K-State's Johnson Cancer Research Center will be at 5 p.m. Sunday, July 14, at the First Presbyterian Church, 801 Leavenworth St., Manhattan.
The all-you-can-eat dinner, which is prepared by Chef Drew Zink — the former owner of Gilio's — and volunteers, includes spaghetti, bread, salad, cookies and drinks. Tickets are $10 for adults and $5 for kids, and are available at the center, 1 Chalmers Hall, 785-532-6705.
This event is sponsored by the Kaw Valley Rodeo Association, Zink and Cox Bros. BBQ.