June 28, 2013
Aistrup to lead College of Liberal Arts at Auburn University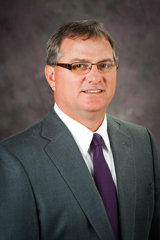 Joseph Aistrup, associate dean of academic affairs for Kansas State University's College of Arts and Sciences, has been selected as the dean of Auburn University's College of Liberal Arts. His appointment will begin Sept. 1.
Aistrup joined K-State in 2002, serving as head of K-State's department of political science from 2002-2009. He was appointed interim associate dean of the college in 2009 before being selected as the associate dean in 2011.
"Manhattan has been a wonderful home for me and my family," Aistrup said. "It has been an honor and privilege to serve the college's faculty and students over the years. We will truly miss our friends and colleagues but are also looking forward to this new opportunity and the challenges that lay ahead."
"Dr. Aistrup brings a wealth of experience as both an administrator and an educator," said Timothy Boosinger, Auburn University provost and vice president for academic affairs. "We look forward to his leadership of the College of Liberal Arts and its diverse programs and course offerings."
In his tenure as associate dean, Aistrup has been responsible for the college's curriculum planning and development, summer school coordination and academic program reviews. He also coordinated the college's faculty and alumni awards selection process. In 2011, Aistrup served as interim dean of the College of Arts and Sciences.
"Joe has been a great member of the leadership team in the college," Dean Peter Dorhout said. "I have learned a lot from him since we started working together in the summer of 2011. He will be a great dean and leader for Auburn, and I will miss all his contributions."
As a political science professor, Aistrup specialized in Kansas politics, public policy and methodology.
"Joe served a successful term and a half as our department head and has contributed to the department in far too many ways to count," said Jeff Pickering, current political science department head. "He helped to push the department forward in a host of important ways, with the result being that his positive impact on K-State political science will be felt for many years."
At Auburn, Aistrup will lead a college comprised of two schools and 11 departments which are divided into the four academic areas of fine arts, humanities, communications and social sciences. The college has more than 4,200 students and 400 faculty and staff, and offers 39 undergraduate majors, 18 graduate programs and six professional certificates.
The College of Arts and Sciences will conduct a search for the associate dean of academic affairs position this fall.