June 24, 2013
Professor challenges junior faculty to 'Tough Mudders'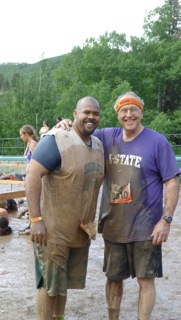 Two College of Education faculty members are "Tough Mudders," and they have the T-shirts to prove it.
"Tough Mudders" is a fundraiser for the Wounded Warriors Project. Nearly 1 million people have participated in the obstacle courses around the county, and they have raised nearly $6 million for the cause.
Jeff Zacharakis, associate professor of educational leadership, and Albert Bimper, assistant professor of special education, counseling and student affairs, were part of a 10-member team to tackle the 11-mile course in Beaver Creek, Colo., on June 15.
It all started when two of Zacharakis' sons, George and Reuben, asked their dad if he wanted to do the course with them.
"Whenever my kids call me up and say 'let's do something,' I do it," replied the father of seven.
His sons had recruited friends so Zacharakis asked his friend and colleague Bimper, who had been an offensive lineman for the Indianapolis Colts. "Asked" may not be quite the right word.
"He walked into my office and said 'Are you man enough?' and handed me a piece of paper with toughmudder.com on it," Bimper said, laughing.
In what was certainly the manliest of ways, Bimper accepted the invitation and the two started training four to five days a week in late January.
Were they ready for the mountainous terrain? Were they ready to plunge through icy waters? Were they ready to be shocked by dangling electrical wires? Could the 58-year-old professor keep pace with the 29-year-old athlete? Most importantly, could they finish?
On June 15, the team started the course along with about 15,000 other people.
"It was fun for the first mile, then it got serious," Bimper said, after witnessing a man pass a runner only to lose his footing and slip several yards down the side of the mountain. "When they say it's tough, it's an understatement."
Zacharakis had his perspective.
"You don't look forward to doing it, you look forward to having it done."
A quick glance at toughmudder.com makes this statement astonishingly clear.
However, Zacharakis is quick to point out this is not a timed event. Just like situations the Wounded Warriors faced, it's about something much more important.
"It's all about teamwork and helping people," Zacharakis said. "They value camaraderie over course time."
And at about mile six, the team would need to help Bimper, who experienced excruciating leg cramps.
"I was never not going to finish, but it was grueling," he said.
And they finished the race because something very important – very valuable – awaited them at the finish line.
"You cannot buy an official Tough Mudder T-shirt or headband unless you finish the race," Zacharakis said.
"I even bought a shirt for my son that says 'My Dad is One Tough Mudder.'" Bimper said.
The two are already deciding which course they will do next.
"Oh yea, we'll do it again," Zacharakis said. "I'm going do it until I can't do it anymore. It's a great cause."