May 22, 2023
Kilgore performs with the Boise Philharmonic
Submitted by School of Music, Theatre, and Dance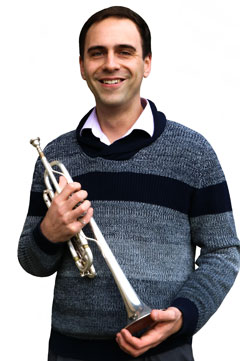 John Kilgore, teaching assistant professor of trumpet, was invited to perform principal trumpet on the Boise Philharmonic's performance of Gustav Mahler's Symphony No. 5.
A monumental figure in classical music, Mahler's symphonies are considered masterworks that depict the entirety of the human experience through artistically captivating melodies and compositional form, and showcase soloistic virtuosity throughout the orchestra.
The performance was May 20 at the Morrison Center for the Performing Arts in Boise, Idaho.
Since 2019, Kilgore has been on the faculty at the Kansas State University School of Music, Theatre, and Dance. As a scholar, he has presented research and performed at the International Trumpet Guild Conference and is regularly published in the ITG Journal. As an invited clinician, Kilgore has presented master classes and recitals at institutions such as the University of Missouri Kansas City Conservatory of Music, University of Cincinnati College Conservatory of Music, Oklahoma State University, Ohio University and Wichita State University, among others. As a teacher, his students and studio have competed at the National Trumpet Competition. Kilgore holds degrees from Ohio University and the College-Conservatory of Music at the University of Cincinnati. He has a doctorate in music from Florida State University.