May 22, 2023
Retired educators create STEAM speaker series for College of Education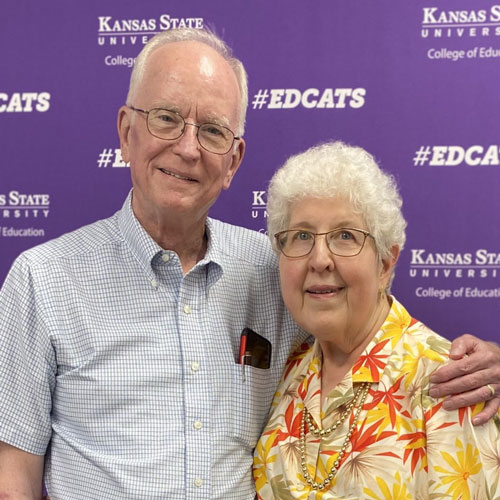 Retired educators Roger and Liz Rea have discovered a new way to teach about the fascinating world of STEAM — science, technology, engineering, the arts and math — and it's through the College of Education's Roger and Liz Rea STEAM Speaker Series.
The Reas, Omaha, Nebraska, are lifelong educators who have been recognized for their professional accomplishments and service activities at the local, state and national levels. Their first speaker will present at the Summer STEM Institute Showcase at 10 a.m. Friday, June 23, in Room 1109 of Engineering Hall.
The couple was happy to create the STEAM Speakers Series because they believe that young people understanding the STEAM fields' roles in technical areas will help students better prepare for the future, which is both diverse and technologically complex.
"We are grateful to Roger and Liz for making this speaker series possible through their generosity because it is creating such a powerful circle of learning for the students in the summer STEM program," said Debbie Mercer, dean of the College of Education. "Our goal is to expose students — elementary through college age — to an array of career possibilities and to demonstrate the impact K-State has on the world stage."
Roger taught high school chemistry in the Omaha Public Schools for 34 years. He earned his bachelor's degree in education from K-State and a master's in chemistry from the University of South Dakota. Among his honors, Roger received the Presidential Award for Excellence in Science Teaching in 1985; was one of two Nebraska candidates for the NASA Teacher in Space Project in 1986; was named the Nebraska Teacher of the Year in 1989; and received the Lifetime Achievement Award from the Marquis Who's Who Publications Board in 2019.
Liz retired after a 29-year career teaching history with the Omaha Public Schools then worked as the director of education for the Douglas County Historical Society for five years. While at the historical society, she wrote and published a historical timeline for Douglas County, Nebraska, and the city of Omaha from 1671 to 2005, and developed a curriculum project for teaching the history of Omaha and Douglas County for third-grade students called "History in a Trunk." She currently serves as president of the Omaha Education Association Foundation, a charitable organization that awards scholarships to deserving high school seniors in the Omaha area. Each year the foundation awards $400,000 in scholarships to more than 100 students.