May 16, 2023
Cats' Cupboard presents spring awards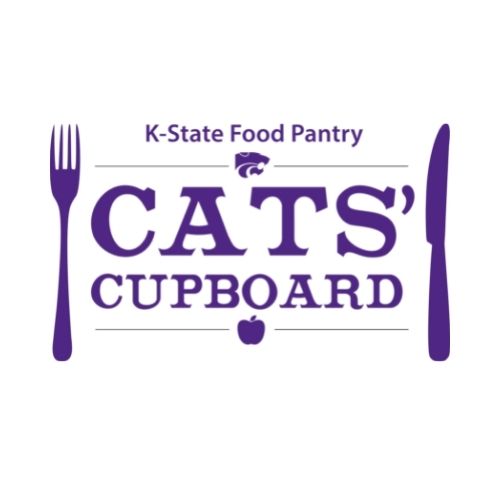 Each year, countless individuals, departments, businesses and organizations partner and work alongside Cats' Cupboard to elevate food security for the K-State community. Cats' Cupboard acknowledged four individuals, businesses and campus partners that went above and beyond to improve the success and productivity of the food pantry this year.
The Friends of Cats' Cupboard Group Award was presented to Mama Fang's Asian Market. Mama Fang's supplies regular delivery of produce and protein to the Cats' Cupboard Refuel Station at the Morris Family Multicultural Student Center as well as the main pantry. Mama Fang's also partnered with the K-State Parents and Family Program and Big Brothers Big Sisters for the Little Budget Big Bounty program this year.
Dianna Schalles was presented with the Friends of Cats' Cupboard Individual Award. As a registered dietitian nutritionist at Lafene Health Center, Schalles regularly facilitates connections between Cats' Cupboard and students who experience food insecurity or eating disorders. Schalles has served on the Cats' Cupboard Advisory Board for five years. In 2022, Schalles facilitated a conversation between Cats' Cupboard and the Riley County Food and Farm Council, which resulted in Cats' Cupboard being able to distribute Healthy Food RX vouchers to students for purchasing fresh produce from the local farmers market or from Manhattan Hy-Vee.
The Campus Ice-Barrett Champion Award was presented to McCain Auditorium. To increase awareness about the K-State food pantry, McCain Auditorium advertised Cats' Cupboard in its program booklets and on digital signs prior to performances. Patrons were offered ticket discounts for making food donations to the cupboard at five McCain Performance Series shows, and at these shows, Cats' Cupboard Ambassadors were invited to table and share about the mission of Cats' Cupboard.
Finally, David and Tracy Lockton were presented with the Community Ice-Barrett Champion Award. The Locktons made a substantial financial contribution that enabled the complete remodeling of a building that will increase the visibility and operational efficiencies of the Cats' Cupboard. The Locktons worked with Shelly Williams, Morrison Family director of Cats' Cupboard, the KSU Foundation, and other campus connections to provide a modern, efficient and permanent home for Cats' Cupboard at 1021 Denison Ave. The facility project will be completed in August.
Cats' Cupboard is grateful to work with such passionate members of the community to ensure continued access to nutritious food and support through initiatives that promote health, success and well-being.