May 15, 2023
Entomology department student recognitions
Submitted by Department of Entomology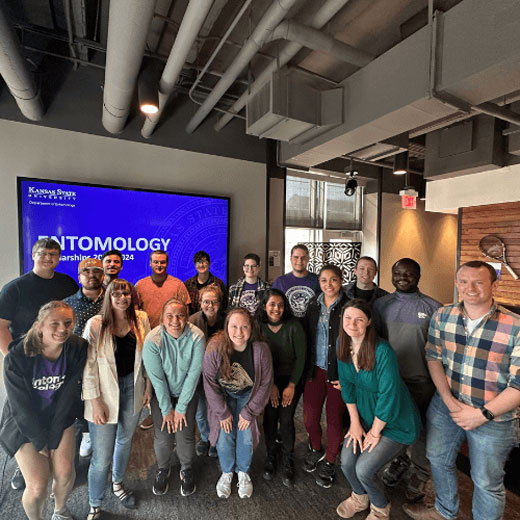 The entomology department recognizes and congratulates the following students on receiving awards and scholarships:
Hazel Scribner, master's student: OW Spide Morris Award.
Jacqueline Maille, doctoral student: Sonny and Gita Ramaswamy Scholarship and Joe Pankaskie Scholarship.
Andrés F. Holguín Rocha, master's student: Roger Smith Award.
Rupinder Singh, doctoral student: Reginald Painter Memorial Scholarship.
Nicole Kucherov, and Edward Bird, doctoral students; and Rachel Johnson, master's student: John C. and Mary Beth Reese Scholarship.
Victoria Pickens, doctoral student: Fred Clute Scholarship.
Sabita Ranabhat, doctoral student: Flod Holmes Scholarship.
Jaye Montgomery, senior: Schendel-Mages Scholarship.
View additional information about these awards.
Thank you to the donors for scholarship funding and to the scholarship committee for their work in selecting these recipients.
Want to stay in the loop about all the buzz-worthy happenings at the Kansas State University Department of Entomology? Then follow us on Facebook, Twitter, or Instagram at @KStateEntom! We keep you up to date on our latest research, awards and achievements, plus we give you the inside scoop on upcoming events and opportunities for students.