K-State College of Veterinary Medicine presents research excellence award to Dana Vanlandingham
Monday, May 15, 2023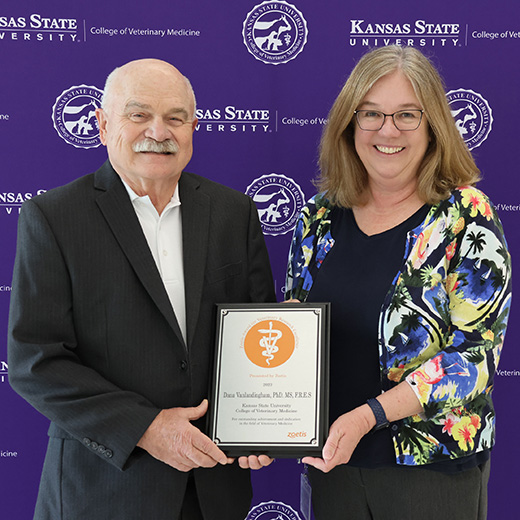 Frank Blecha, associate dean for research, presents the Zoetis Animal Health Award for Research Excellence to Dana Vanlandingham, professor of diagnostic medicine and pathobiology in K-State's College of Veterinary Medicine. This is the college's highest faculty research award. | Download this photo.
MANHATTAN — Research targeted at one of the tiniest summer pests has helped earn special recognition for Dana Vanlandingham, professor of arbovirology at Kansas State University.
In March, the College of Veterinary Medicine presented Vanlandingham with its highest research honor — the Zoetis Animal Health Award for Research Excellence.
"Dr. Vanlandingham's research focuses on infectious diseases of animals, including zoonotic pathogens that infect a wide variety of animals — companion and livestock species — and humans," said M.M. Chengappa, university distinguished professor, who nominated her for the award. "In 2020, she co-authored a manuscript in Nature Scientific Reports that demonstrated for the first time that SARS-CoV-2 cannot be transmitted by mosquitoes. If this were not the case, then susceptible companion animals and people would be at a significantly higher risk of infection."
Vanlandingham was recruited to the College of Veterinary Medicine in 2013. In addition to being on the faculty, she serves as director of the BSL-1 and BSL-3 Insectary in the Biosecurity Research Institute. She is also a graduate faculty member of the K-State Master of Public Health program, and she is a member of the Center for Viral Pathogenesis at the University of Kansas Medical Center in Kansas City, Kansas.
"Dr. Vanlandingham has been very productive with $7.9 million in research grants as PI at K-State and more than 100 peer-reviewed publications in journals such as Nature, Science, PNAS, and Nature Medicine," said Dr. Frank Blecha, associate dean for research. "She has mentored nearly 20 graduate students and she regularly presents training opportunities for young scientists to work in high-containment facilities through several training programs."
Vanlandingham is a fellow with the Royal Entomological Society of London, and she is a fellow in the Marty Vanier and Bob Krause Biosecurity Research Institute Research Fellowship program at K-State.
"I am honored to receive the Zoetis Research Award for our work on zoonotic arboviruses," said Vanlandingham. "This award represents the contributions of many students and faculty here at K-State as well as other collaborators."
Prior to joining Kansas State University, Vanlandingham spent four years as a research scientist at the Heska Corporation, Fort Collins, Colorado, and then held several faculty and research positions with the University of Texas Medical Branch in Galveston, Texas.
Vanlandingham earned bachelor's and master's degrees in microbiology at Colorado State University. She completed a doctorate at the Liverpool School of Tropical Medicine in the U.K.