June 4, 2013
A letter from A.D. John Currie: Manhattan becoming a baseball town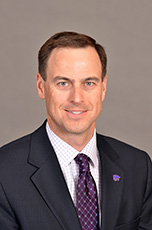 Good morning, K-State Nation!
Wow! What an incredible game we witnessed Sunday night at Tointon Family Stadium as the 'Cats fought back from an early 3-0 deficit to beat Arkansas 4-3 and advance for the first time ever to an NCAA Super Regional. Big 12 Coach of the Year Brad Hill's squad will depart later this week for a best-of-three series at Oregon State, the No. 3 national seed, starting Friday or Saturday. The winner will claim one of eight spots in the 2013 College World Series in Omaha, beginning June 15. Stay tuned for ticket and ESPN coverage for this coming weekend's action.

Meanwhile, while Manhattan was making history hosting its first-ever NCAA Baseball Regional, Erik Kynard set a new K-State high jump record with a leap of 7-8.75 in the prestigious Prefontaine Classic on Saturday!

There will be lots of K-State Purple in Oregon this weekend as in addition to baseball in Corvallis, Coach Cliff Rovelto is taking an outstanding contingent to the NCAA Outdoor Championships in Eugene, including Erica Twiss (400m hurdles), Martina Tresch (steeplechase), Kyle Wait (pole vault), Jharyl Bowry (long jump), our men's 4x100 relay team, decathletes Tomas Kirielius and Reinis Kregers and of course the reigning NCAA high jump champ in Kynard. Click for ticket and coverage information.

I am grateful for all our staff members who worked so hard to make Manhattan's first-ever NCAA Baseball Regional a tremendous success. The sellout crowds for Friday, Saturday and Sunday's K-State games were awesome, but MHK also displayed its potential as a great baseball town with fine crowds for the games featuring Arkansas, Bryant and Wichita State. One of my favorite moments occurred during the second inning Sunday night. With Arkansas out to a quick 3-0 lead, the Razorback faithful were plenty loud "calling the hogs" with their famous pig–sooie chant. All of a sudden the K-State faithful began spontaneously responding with our "K-S-U WILDCATS" chant and basically drowned out the "calling of the hogs" every time it began for the rest of the night! It was another moment in which K-State fans were determined to do their part to help the Wildcats battle back!

Making Sunday night even more special was the attendance of Bob and Betty Tointon for the big win. A decade ago, long before these players or this A.D. arrived on the scene, their gift, along with the gifts and efforts of too many others to name here, made the stadium possible. It was among the most crucial building blocks of the process that finds our baseball team reaching heights unimaginable for a program that until 2009 had never been to an NCAA tournament and until this year had not won a conference championship since the 1933 squad shared the Big Six title with a 3-2 league record.

So what's the next "unimaginable" achievement for K-State? I can tell you that across the K-State campus in research labs and classrooms there are outstanding faculty and staff working hard toward the K-State 2025 goal of elevating the university into the ranks of Top 50 public research university. Who could have predicted 25 years ago that K-State would be the No. 1 college destination of choice for state of Kansas high school seniors and the choice of more than 2,000 international students each year?

When I arrived for my first "official" day on the job four years ago on June 8, 2009, I remember that somewhere in the neighborhood of 25,000 tickets had been sold as of that date for the coming home football opener against UMass, the game in which Coach Snyder would be returning to the sideline. Today I am pleased to report to you that pending visitor allotment returns, individual tickets for the 2013 home opener versus North Dakota State are sold out! In fact, general season tickets for the 2013 slate are sold out for the first time in the 117-year history of the Kansas State University football program! Please visit www.kstatesports.com or click for more information on single-game tickets for our remaining contests which will go on sale tomorrow.

As we begin our fifth year in Manhattan I am going to use my next several letters to spotlight progress we have made on each of the five goals that surround our Vision of a Model Intercollegiate Athletics Program. You may recall that we unveiled that vision and five core goals in our "K-State Pledge" on July 11, 2009. While discussing the progress we've made we'll also look at next steps and challenges ahead. Then in July we'll summarize where we are and talk about our next steps forward!

Before I wrap up today, here are some more news and notes from around the department:
Tennis duo finishes with strong run at NCAA's
Congratulations to tennis players Petra Niedermayerova and Karla Bonacic on a great season which culminated with appearances in the NCAA Singles and Doubles Championships in Illinois. Petra advanced to the Sweet 16 of singles play, while she and Karla teamed up to also advance to the Round of 16 in doubles action. Petra ended her 2012-13 season with a school-record mark of 32-10, while she also secured the school career record for singles wins with 80. Petra was also successful in the classroom, as she earned her second straight Capital One/CoSIDA Academic All-District VII At-Large First Team citation, her second straight Academic All-Big 12 First Team honor and became the third Wildcat to win the Big 12 Conference's inaugural Scholar-Athlete of the Year award – joining Brittany Chambers of women's basketball and Jared King from baseball. The team of Petra and Karla completed the season with a 22-11 record, won the 2013 Big 12 doubles title from the No. 1 position in the lineup and earned All-Big 12 doubles honors for the second straight season together. We congratulate these two Wildcats on a great season — Petra will be among a group of returners for 2013-14 that will reap the benefits of our gorgeous new outdoor tennis facility.

Big 12 meetings
President Schulz, Faculty Athletics Representative Be Stoney, Senior Associate A.D./SWA Jill Shields and I attended the annual Big 12 business meetings in the DFW area last week. We are really excited about the incredible progress of the league. Perseverance to do the right things has its rewards. Speaking of "unbelievable" I know there are a number of national critics that are eating crow now! Needless-to-say Commissioner Bowlsby and his staff, along with the leaders of all 10 institutions, are very pleased with the direction of our conference and the leadership position we have established.

K-State national expert appears on ESPN
Many of you may know Dr. Bob Shoop, co-founder of the School of Leadership Studies and Director of the Cargill Center for Ethical Leadership at K-State. Dr. Shoop is a national expert in forensics and serves as a consultant to school districts, universities and corporations in the area of standards of care and harassment and abuse prevention. Dr. Shoop was a guest of Bob Ley last week on ESPN's Outside the Lines and spoke about a recent university case. The film crew traveled to his home in order to have his expert opinion on the show — another great example of the national impact K-Staters are making!

Nelson's Landing anyone?
Amidst my travels over the last few weeks I had a nice visit with Riley County and K-State's favorite Green Bay Packer Jordy Nelson who is getting ready to for the Fifth Annual Nelson's Landing Benefit this coming weekend at Nelson's Landing in Leonardville. This year's benefit is to help two area people with medical concerns. Stop by and see Jordy this Friday and Saturday — he says they'll have the baseball game on too! Call 785-293-5661 for more information.

That does it for today. We continue to keep the victims of recent storms in Oklahoma, Kansas and around the country in our thoughts and prayers. Thank you for your tremendous support and passion for K-State student athletes!
Go Cats!

John Currie