November 18, 2022
Voice students place at regional student competition
Submitted by School of Music, Theatre and Dance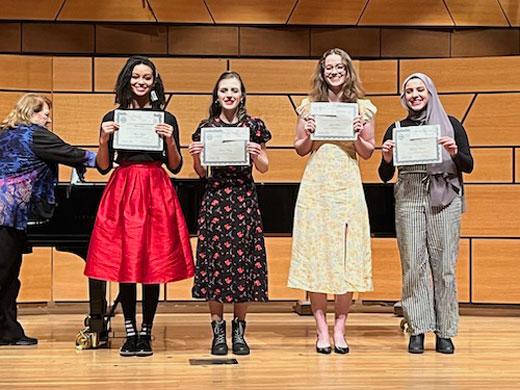 Alyssa Byers and Emma Curry, two on left, place in Music Theatre.
Singers from the School of Music, Theatre, and Dance competed at the West Central Regional Student Auditions at Colorado State University in Fort Collins.
The event is sponsored by the National Association of Teachers of Singing, the primary professional association for voice teachers, and includes schools from Kansas, Nebraska, Colorado and Wyoming. Students spent the first part of the semester preparing specific repertoire for the association and spent two days attending masterclasses and competing in the judged auditions. Select students, Claire Severance and Emma Curry, also performed in masterclasses in Musical Theatre.
Several students advanced to the semifinal round, and five students placed in their respective divisions: Carter Keesecker, fifth place, lower college classical; Amaya Dungan, second place, third-year college classical; Paige Padgett, fourth place, senior classical; Emma Curry, fifth place, fourth/fifth-year musical theatre; and Alyssa Byers, third place in both fourth/fifth-year college classical and upper college musical theatre. Other participants included Hayden Holmberg, Kiara Islam, semifinalist; Addy Wichman; Laura Kovar; Sarah Keary; Maggie Masoner; Lie Lookhart, semifinalist; Caleb Miller, semifinalist; Brittany Taylor, semifinalist; Emma Iacovella, Claire Severance, semifinalist; Sesthleng Garcia, semifinalist.
School of Music, Theatre, and Dance voice faculty include Jesus DeHoyos, Bryan Pinkall, Reg Pittman, Cheryl Richt, Amy Rosine and Patricia Thompson. Pianists for the student auditions were Norma Roozeboom, Songhwa Chae and Alicia Santee-Davis.