November 8, 2022
Be part of the 2022 International Food Festival — buy your tickets online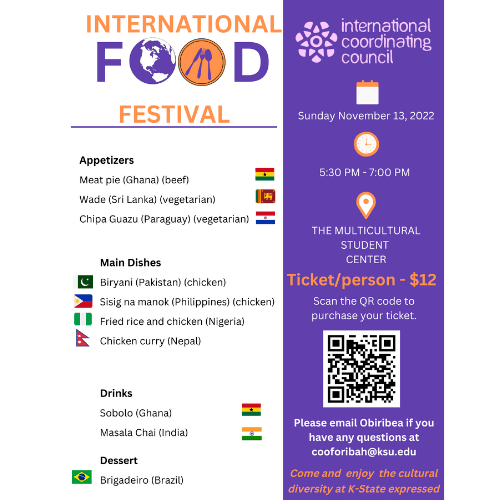 The International Food Festival is back! It's that time of the year when you get to taste food from around the world right here in Manhattan.
The International Coordinating Council invites you to purchase tickets for this year's festival, which will take place from 5:30-7 p.m. Sunday, Nov. 13, at the Morris Family Multicultural Student Center.
For only $12, you can taste eight different dishes and two drinks from around the world. We will have to-go boxes for you to take the delicious food home.
The following foods are being offered.
Appetizers:
Meat pie, Ghana, beef.
Wade, Sri Lanka, vegetarian.
Chipa Guazu, Paraguay, vegetarian.
Main dish:
Biryani, Pakistan, chicken.
Sisig na manok, Philippines, chicken.
Fried rice and chicken, Nigeria.
Chicken curry, Nepal.
Drinks:
Sobolo, Ghana.
Masala Chai, India.
Dessert:
Please be sure to get your tickets online by 5 p.m. Friday, Nov. 11.
Come and experience the world through taste at the International Food Festival.