October 26, 2022
Raymond Cloyd to receive Outstanding Scientist Award Nov. 2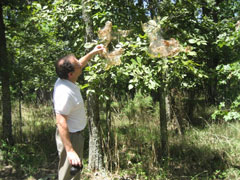 The K-State Chapter of Sigma Xi will present its Outstanding Scientist Award to Raymond Cloyd, a professor in the entomology department. He specializes in integrated pest management, plant protection, horticultural and ornamental cropping systems, biological control, insect-plant interactions and pesticides.
Cloyd's award presentation will be at 3 p.m. Wednesday, Nov. 2, in the McVay Family Town Hall, Room 114, at the Leadership Studies Building. The title of his presentation is "Developing Plant Protection Programs in Horticultural Cropping Systems."
After the presentation, from 4-5 p.m., the first Sigma Xi Science Café — also held in McVay Family Town Hall — will provide an opportunity to get reacquainted. Refreshments will be provided. Future monthly Science Café discussions will be related to the larger theme of "Interdisciplinary scientific collaboration: what, who, why, how, benefits, convergence, and getting started."
Sigma Xi is the international scientific research honor society of science and engineering. One of the oldest and largest scientific organizations in the world, Sigma Xi has a distinguished history of service to science and society for more than 125 years. Scientists and engineers, whose research spans the disciplines of science and technology, comprise the membership of the society. Sigma Xi chapters can be found at colleges and universities, government laboratories and industry research centers worldwide. More than 200 Nobel Prize winners have been members.
The K-State chapter of Sigma Xi is a unique opportunity for scientists on campus with diverse training to interact. With changes in the world and the university, we hope you will join us in taking a renewed interest in developing and strengthening our campuswide professional scientific interactions.
For more information, contact your 2022-2023 K-State Sigma Xi leadership team, Martha Mather at mmather@k-state.edu, Ignacio Ciampitti at ciampitti@k-state.edu and Vara Prasad at vara@k-state.edu.