October 14, 2022
K-State Theatre presents free performance of 'IX' Oct. 14 and 15
Submitted by Jerry Jay Cranford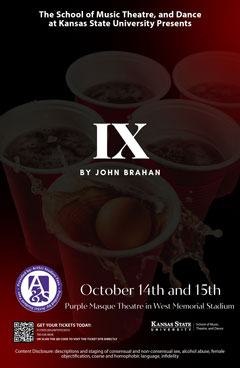 Friday and Saturday, Oct. 14 and 15, join K-State Theatre for a free reading of the new play "IX" by John Brahan. Both performances will begin at 7:30 p.m. in the Purple Masque Theatre in the West Stadium.
"IX" explores very mature themes of sexual assault on college campuses in sorority and fraternity life. The reading is directed by drama therapy graduate student Megan Longton, assisted by Blake Alley.
After her friend reports an incident to the university, Claire, the complainant, visits the Title IX office to recount a night that she barely remembers. She files a complaint claiming that her peer, Tripp, took advantage of her at a party. Tripp's stance is, "She asked for it." Tripp and Claire give their statements to the Title IX coordinator. Their stories are told in flashbacks as the characters recount the evening with their friends searching for the facts in their inebriated memories. There is a content advisory that the production does feature descriptions and staging of consensual and non-consensual sex, alcohol abuse, female objectification, coarse and homophobic language, and infidelity.
Starring in the performance are K-State Theatre students Valeria Vega as Claire and Cooper Mills as Tripp. Portraying their friends and the Title IX coordinator are Madeline Vanderiet, RD Pipkin, Katie Flynn, Jonah Nichols and Ana Vasquez, with stage directions being read by Audrey Burgoon and Rachael Kovar serving as run crew. Intimacy and consent work for the production was directed by theatre faculty member Joelle Arp-Dunham.
In offering stage readings, K-State Theatre prepares students utilizing the Actors' Equity Association rules for rehearsal and performance. This type of theatre is an integral part of the development process for new scripts. It allows the director, actors, audience and playwright to focus on the text and story development. Please join us for this interesting and topical new work sure to spark conversation and debate.