October 7, 2022
Faculty musicians perform at inaugural Faculty Showcase Series to full house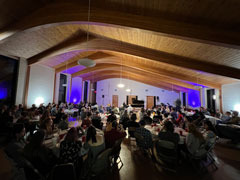 Ten faculty artists in the School of Music, Theatre, and Dance performed at the inaugural Faculty Showcase Series on Thursday, Sept. 29, to a sold-out crowd. The event provided students and faculty with dinner and collaborative concert.
Described as a concert for the school's own family, "Musical Gems" featured K-State faculty performing well-known and beloved classics. Faculty artists included Amanda Arrington, Amy Rosine, John Kilgore, Colleen White, David Wood, Slawomir Dobrzanski, Steven Maxwell, Cheryl Richt, Daniel Hinman and Reginald Pittman.
The series was created to promote collaboration and celebrate the community of students and faculty within the school. The next Faculty Showcase Series concert, "Grateful," is Tuesday, Nov. 15, and features a Thanksgiving dinner. Free tickets for the next concert will be available to students and faculty in the School of Music, Theatre, and Dance in early November. A limited number of tickets also will be available for purchase by the public.