October 5, 2022
Growing Our Mindset: A Diversity Forum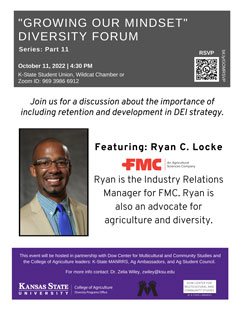 In honor of Global Diversity Awareness Month, mark your calendars and please join the Kansas State University College of Agriculture as Ryan Locke, industry relations manager for FMC Corporation, discusses "Closing the circle on DEI (diversity, equity and inclusion): The Importance of Including Retention and Development in Your DEI Strategy."
The College of Agriculture's student leadership will present the fall 2022 student-led diversity forum from 4:30-6 p.m. Tuesday, Oct. 11, in the Wildcat Chamber at the K-State Student Union and via Zoom, Meeting ID: 969 3986 6912.
The student groups that will lead the event are K-State Minorities in Agriculture, Natural Resources, and Related Sciences, or MANRRS, College of Agriculture Ambassadors and Ag Student Council in partnership with the College of Agriculture/KSRE Diversity Programs Office and the Dow Center for Multicultural and Community Studies. The event promises to be engaging and impactful, yet can only be great with your participation.
Instructors, please note that we will take attendance of students who participate; if you require this information, please contact Summer Santillana, Diversity Programs Office coordinator, at smades@k-state.edu.
Thank you for your continued support of our programs and efforts. All are welcome to this event, so please join us. Continue to look for more diversity events that we promote.  If you require any additional information about these events, please contact Zelia Wiley at zwiley@k-state.edu or 785-532-5793. Social media: Twitter @dpooffice, Instagram: @dop_kstate, Facebook: Diversity Programs Office-Kansas State University.