April 25, 2013
A letter from A.D. John Currie: Busy weekend in sports kicks off Friday with annual auction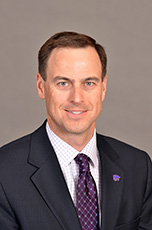 Good morning, K-State Nation.
Yesterday was a beautiful day in Kansas as Senior Associate A.D. Chad Weiberg and I made the drive down to Wichita to a luncheon with more than 100 K-Staters at Koch Industries. Among the many in attendance were recent Wildcat student athlete graduates Victor Ojeleye (basketball) and Daniel Dellasega (baseball) who are among the many financial analysts, engineers and other professionals at Koch, which is annually one of the largest recruiters of K-State graduates.
We then made our way over to Prairie Dunes Country Club in Hutchinson to watch final round action of the Big 12 Men's Golf Championship. The men's golf squad has endured some tough weather conditions on the course this week, but the sun was out as all nine teams wrapped up play. It has been a pleasure serving as the host institution at this week's tournament, and I appreciate all our staff, including Cole Walker (operations), Mindy Hoffman (athletic training) and Kenny Lannou and Jesse Piper (media relations/communications), who helped make the event run smoothly amidst the weather delays — including Tuesday's snow and ice storm! Next year Wichita State will be the host institution for the 2014 NCAA Men's Championship here, so golf enthusiasts should make plans to watch the nation's best collegiate golfers right here at Prairie Dunes.
We have a busy weekend ahead, so let's dive right into this week's updates.
Big night Friday in Bramlage Coliseum
The weekend's activities get under way Friday evening with the 29th annual Powercat Auction at Bramlage Coliseum. This year's event features a special opportunity for K-State as the Bobby Dodd Foundation will be on hand to present Coach Snyder with the 2012 Bobby Dodd Coach of the Year Award. We look forward to hosting Coach Bill Curry, Dr. Homer Rice, Gary Stokan of the Chick-fil-A Bowl, Jim Terry of the Dodd Foundation and others from the organization who will be making the trip. Click for full details on the evening, which begins at 5 p.m.
Saturday's Purple/White Game wraps up spring workouts
Coach Snyder and our football charges have been hard at work this spring and will wrap up their practices Saturday with the annual Purple/White game at 1:10 p.m. Tickets are available for just $5 each, and fans are reminded that due to the construction of the West Stadium Center, only lower-level seating in the east and south bowls (Sections 13-19 and 20-28) will be open. Fans should park in the east stadium lots to avoid construction traffic on the west side. Parking is free and will open at 10 a.m., while all East gates to the stadium will open at 11:45 a.m. Click for all of the details surrounding Saturday's game, which also will air live on K-StateHD.TV.
Tennis looks to ride momentum into Big 12 Championships
Following two big home sweeps last weekend, including a senior day win over West Virginia, Coach Bietau and the women's tennis team open play today at the Big 12 Championships in Norman, Okla. The Cats take on the Mountaineers again in the first round at 10 a.m. Click to follow all of the action, which includes live results. And congrats to Petra Niedermayerova, the 16th-anked singles player in the country, who added Academic All-Big 12 honors to her list of accolades this year!
Weekend baseball series to feature trial run of new concessions amenity
The Wildcat baseball team returns home this weekend for a big conference series with TCU. Coach Hill's squad is currently in third place in the Big 12 standings at the halfway mark of league play. The series gets underway Friday night at 6:30 p.m. (also on K-StateHD.TV) followed by a 4 p.m. televised game Saturday on Kansas 22 and an 11 a.m. series finale on Sunday which will air on FCS. Fans with a spring football game ticket can receive admission to Saturday's game for only $3. Also, fans will find a new concessions addition at Tointon Family Stadium this weekend as the sale of beer will be permitted inside the stadium beginning Friday. In full compliance with University alcohol policy and procedures, we recently took the necessary steps to allow for a test program to sell beer at baseball games the remainder of the season. If the pilot program is successful we plan to offer beer sales in the public areas of Tointon only, beginning in the 2014 baseball season.
Friday night is also military appreciation night at Tointon and we welcome all our servicemen and women with a special ticket rate of just $3. Keep in mind that this is Texas Christian's first trip to Manhattan as a member of the Big 12 Conference. The Horned Frogs have an outstanding baseball tradition, most recently making the College World Series in 2010. We hope to see you at the park this weekend for this crucial series in the Big 12 race.
Thank you for your continued support of K-State student-athletes, and we will see you this weekend!
Go Cats!
John Currie