August 23, 2022
APDesign's Barton organizes NCARB Scholars in Professional Practice Program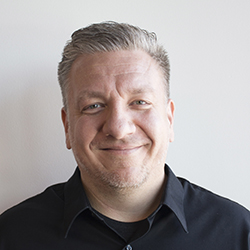 Scott Barton, assistant professor of interior architecture and industrial design in the College of Architecture, Planning & Design, helped facilitate the 2022 NCARB Scholars in Professional Practice Program Aug. 4-6 in Stillwater, Oklahoma.
The National Council of Architectural Registration Boards, or NCARB, is a nonprofit organization that aids in the licensing and credentialing of architects throughout the United States and its territories. This event helped professors explore the content and best practices of teaching professional practice topics in architecture and offered opportunities for peer engagement and sharing sessions.
Barton presented two sessions titled "Storytelling: Narrative & Empathy as a Teaching Tool" and "Alternative Teaching Ideas: Experience, Environment, Medium, & Motivation," in addition to facilitating a discussion on a shared reading.
"I was honored to have been part of an event that helped educators from across the country think about how they might deliver content differently," Barton said. "It was eye-opening to see the diverse approaches to teaching professional practice and how everyone was able to leverage their strengths and experience."
Barton has practiced nationally and internationally with expertise from educational environments to international hospitality, from large-scale mixed-use projects to small-scale crafted objects. He has a passion for education. His research interests include using empathy, storytelling, and vulnerability as design tools, integrated design processes, the craft of design and the impact of design education as amplified by technology.