July 21, 2011
An artist's touch: College of Veterinary Medicine medical illustrator earns national certification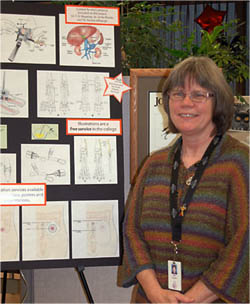 Sometimes life doesn't go according to plans. For Mal Hoover, a change of plans led to a 30-year career and recent national certification as a medical illustrator.
Hoover earned her bachelor's degree at K-State in pre-veterinary medicine. She had applied for veterinary school the next year with her best friend. Unfortunately, Hoover did not get in, but her friend did. Instead, she decided to take a job as a student worker at the College of Veterinary Medicine with the intention of re-applying to veterinary school. After a couple of years, the medical illustrator at the time accepted a position at the K-State Student Union. The position was then offered to Hoover.
"When the medical illustrator position opened up, I had the intention of only doing it for a few years," Hoover said. "It turns out, I loved it! It involves art and science, and I really like both subjects. It's always changing, and I have had the opportunity to work with some fabulous people."
While working at the college, Hoover, a graphic design specialist, was given the opportunity to go to the Association of Medical Illustrators annual conference. This was the first time she had heard about getting certified.
"Getting certified was partly a bucket list thing," Hoover said. "I was diagnosed with cancer in 2003 and while I was at the conference, I had heard about getting certified. I thought, 'Why not?' It took a lot of hard work, but I'm glad I did it."
The process to get certified can take many years to complete and is very difficult. There are only 250 certified medical illustrators in the world, and Hoover is the only one in Kansas. Most participants have a master's degree in medical illustration, but Hoover did not. She had gained enough experience from working at the college, which gave her the confidence to take the certification test. The test consists of two components, the first being a four-part test with questions about business practices, ethics, biomedical sciences and drawing skills. After passing, the applicant must submit a portfolio that is reviewed by other certified medical illustrators for techniques and accuracy. After this process, the board makes the decision about certification. Hoover became certified in June.
Several faculty members have recently used Hoover's services for their projects. Amy Rankin, assistant professor of ophthalmology, used Hoover's talents for a schematic drawing of the flow of fluid through the eye that she will use for a book chapter and class lectures.
"Her schematic drawing of the eye is amazing," Rankin said. "She drew one for us last year that we use to teach students. It is beautiful and accurate. I am very proud of Mal for achieving her goal. Her professionalism, friendly attitude, artistic talent and knowledge of veterinary medicine is what makes her great."
Michael Kenney, graduate studies director and professor of anatomy and physiology, shares his gratitude for Hoover's assistance. She is currently working on a diagrammatic representation of an experiment apparatus for him, using computer graphics.
"Mal has been a huge help with our work," Kenney said. "We appreciate her enthusiasm, creativity and talent. She is a highly talented person and the output of her work is always excellent."
To maintain certification, Hoover will have to participate in continuing education course work in art/illustration techniques and biomedical science. Currently, she is using Lynda.com for its video tutorials. She said the site has been extremely useful in learning new methods and refreshing her computer graphic techniques.
"Being located in the library has helped out a lot," Hoover said. "It is a wonderful resource. If I need to look something up for a project, the library has the most current texts on every veterinary subject."
Hoover hopes to go to the Association of Medical Illustrators conference next year. She said she is glad she had the opportunity at the College of Veterinary Medicine because it combines everything she enjoys.