August 15, 2022
Thompson joins Student Success as TRIO Student Support Services director
Submitted by Stephanie J. Bannister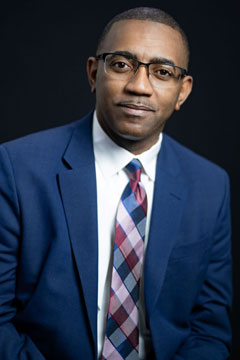 Eric Thompson has joined the Office of Student Success as the Trio Student Support Services director. At K-State, he will lead the Student Support Services program on the Salina campus and the Educational Support Services program on the Manhattan campus.
Thompson is a higher education and nonprofit professional with more than 15 years of experience advocating for education and community health equity. Previously he served as the education partner manager for Kansas City Scholars, a 501(c)(3) organization working to increase postsecondary education attainment in the greater Kansas City area by supporting underrepresented and underresourced students. He has served as a community college dean of students, a Trio program director, admissions manager and residence hall manager. Equity and justice are the core of Thompson's professional, personal and volunteer work.
Thompson holds a Bachelor of Science in psychology from Jackson State University, a Master of Science in family therapy from Friends University and a certificate in diversity, equity and inclusion from the University of South Florida. Thompson is currently an educational doctoral candidate at the University of Kansas.
Thompson will report to Stephanie Bannister, assistant vice provost for student success, and serve as a member of the Trio leadership team and the student success leadership team.
"Eric brings significant leadership experience, as well as a demonstrated commitment and track record of working to promote student success throughout his career," Bannister said. "We are excited to have him joining us and helping to grow and elevate our Trio services across our campuses."
Please join the Office of Student Success in welcoming Thompson to the university.