August 9, 2022
K-State music students perform with Kansas City Symphony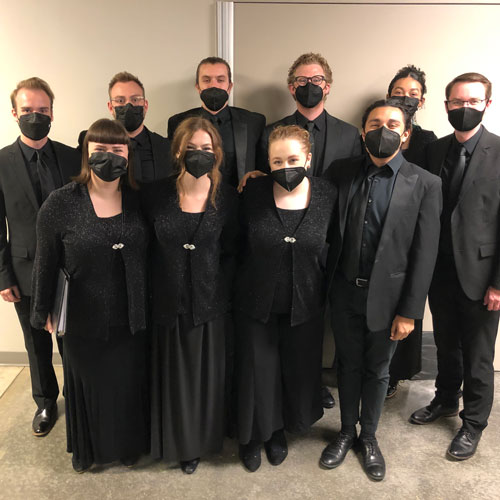 Nine Kansas State University vocal music students were invited to perform with the Kansas City Symphony Chorus in four performances of Beethoven's Ninth Symphony with the Kansas City Symphony in Helzberg Hall at the Kauffman Center for the Performing Arts in Kansas City. This collaboration was the first of its kind allowing current college students to participate in a professional production with the Kansas City Symphony chorus.
The participating singers were Alyssa Byers, Emma Iacovella, Oliver Hutchison, Emma Lansdowne, Ryan Hernandez, Ethan Irons, Dustin Schneider, Catherine Stagner, David Mathes, and associate professor Bryan Pinkall.
Conducted by Charles Bruffy, chorus director, and Michael Stern, symphony conductor, Beethoven's "Ninth Symphony" is widely regarded as one of the best-known and most-beloved works in European music history. Being one of the first symphonies composed for chorus, the fourth movement features the iconic "Ode to Joy." The Kansas City Symphony and chorus performed Beethoven's Ninth Symphony along with Handel's "Zadok the Priest" as part of its season finale, June 24-26. The Grammy award-winning Kansas City Symphony is one of the nation's most renowned symphony orchestras and perform at the Kauffman Center in Kansas City, which since opening in 2011 has been received as one of the world's premiere performing arts venues.