July 19, 2022
R3NRT team wins Best Paper award at ASEE national conference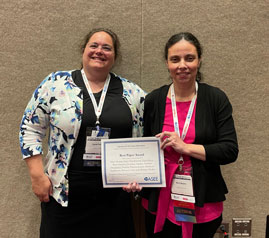 The team representing the Rural Resource Resiliency National Science Foundation Research Traineeship, or R3NRT, won the Best Paper award for the graduate studies division at the American Society of Engineering Education, or ASEE, Annual Conference and Exposition in June.
The team won with its paper "Development of a graduate-level capstone course for interdisciplinary researchers: Design approaches and lessons learned," which describes the development of the NRT capstone, the capstone course structure, the capstone learning experience, products, assessment and the experience gained from it. Co-author of the paper and program coordinator for NRT Mirit Shamir was on hand at the conference to accept the award.
The NRT capstone course is a project-based, cross-listed course that has been developed and co-taught by faculty from the Carl R. Ice College of Engineering, the College of Agriculture, and the College of Arts and Sciences at K-State. The capstone is required for the Rural Resource Resiliency NSF Research Traineeship at K-State.
Authors of the paper include Shamir, Stacy Hutchinson, Gaea Hock, Ryan Hansen, Jonathan Aguilar, Nathan Hendricks, Prathap Parameswaran, Matthew Sanderson, Rebecca Cors and Melanie M. Derby.
Held June 26-29 in Minneapolis, the ASEE conference met for the 129th time and is dedicated to all disciplines of engineering and engineering technology education.